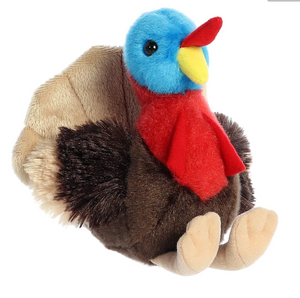 Aurora's Flopsie features miniature stylings of your favorite animal companions in a resting position for added cuteness and ease when playing, cuddling, and more! This Thomas Turkey is light brown with dark brown feathers. Thomas has a bright blue face with a red wattle and a yellow beak. Bring home this turkey for a great, realistic addition to your collection.
8 inches from top to bottom
High quality materials make for a soft and fluffy touch
Fluffy body makes for a great cuddling experience.
Designed to lay resting on its belly for easy, posable play.
To ensure stability and quality, this plush contains bean pellets suitable for all ages
.